Ai Qing 艾青 is a Chinese poet and the father of Ai Weiwei 艾未未. Both Ai Qing's museum and Ai Weiwei have gone missing: perhaps in the same place?
Take a look at wikipedia
http://en.wikipedia.org/wiki/Ai_Qing
.Scroll down to the other resources and there is a reference to the Ai Qing museum. It is a Chinese site but it has disappeared.
For poets, absence and the space it creates is a powerful force. Those in authority who know why the museum and Ai Weiwei have disappeared would do well to consider that their silence speaks loudly. Their nature and practice is being screamed all around the world by silence.
I would like to go to China and walk with Ai Weiwei in his father's museum. Speak up in the silence if you feel the same.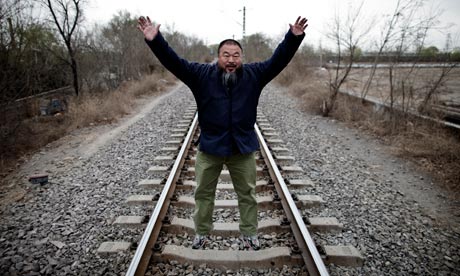 Photo: Dan Chung from the Guardian (Dan, I have borrowed this photo but please let me know if you want me to use another.)
More on Ai Qing here:
http://french.people.com.cn/french/200401/29/fra20040129_65100.html
and on Ai Weiwei's disappearance
http://www.guardian.co.uk/artanddesign/2011/may/09/ai-weiwei-arrest-protest-exhibition
.