Marie Michlová's novel ("
Death of Muses
") about the Scottish poet Walter Scott, his family, J.G. Lockhart, James Hogg, Lord Byron, Benjamin Disraeli etc. was published last week. Read it if you can. There is no English translation on the cards yet so I encourage someone with a good head on their shoulders to get it translated from Czech into as many languages as possible, publish it and make a lot of money.
It is a one off. The next Wolf Hall
. Don't forget to buy the film rights too...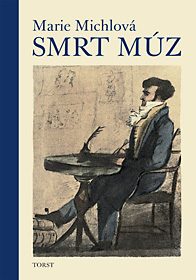 Michlova herself is a Scott geek - I have learned more from her about his life than anyone else in spite of her youth - and such obsession earns her place here: she says "I had been working on [Smrt Múz] for eight years (since I was 15-years-old) and it was not an easy task at all because I wanted to make all my heroes as
real
as possible, so for example everything what my heroes say in the novel are their authentic quotes (taken from their letters, journals etc.)." btw it's Lockhart's self-portrait on the cover
You can find more about the novel here:
http://www.torst.cz/czech/detail.php?pk=610