It is now open and it combines a magazine we enjoy and admire with ornithology.
Good prizes starting from a grand and a personal tour of wild East Anglia with Mark Cocker may also rock your boat. Ruth Padel judges this year and will read all the poems entered in the competition.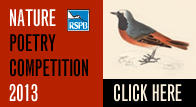 The entry fee is £6 for the first poem and £3 for each subsequent entry.
You can find more here
http://www.therialto.co.uk/pages/the-magazine/nature-poetry-competition-2013/